Our wonderful friends at the Ethical Elephant created a gummi-tastic review of our Vegan Collagen Booster gummy, and we can't stop talking about it! Our beauty line has grown to be healthy and fierce, and we can't wait to release new products that make it easier for everyone to get the nutritional vitamins they needs.
Please check out their website for more jaw-dropping blogs, shopping guides and everything vegan fashion.
Vegan Collagen Booster – Herbaland Gummies for Adults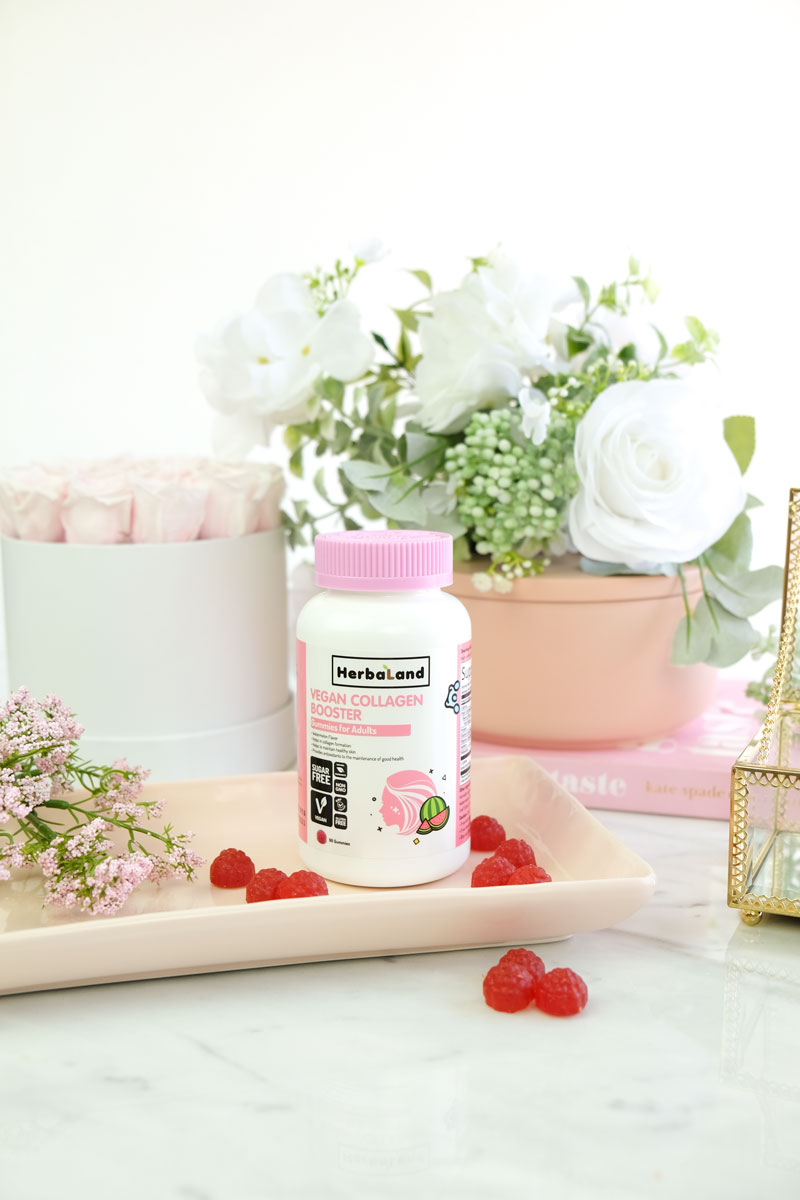 Here on Ethical Elephant, we talk a lot about beauty products that we put onto our skin, but in this post, we're going deeper. Skin deep, that is.
Beauty supplements have grown in popularity in the past several years and as someone who has definitely become more self-conscious and aware of my aging skin, I've been really interested in all the new beauty supplements launching that claim to give us younger-looking, supple, and clear skin. I know plenty of people who use hemp-related beauty products and claim that it successfully provides results. If you are interested in learning more about hemp-related products you can check out this website here (www.premierhempcompany.com). You never know you might find something that you love. I know that some people love this, however, I want to talk to you guys about this really exciting product that I've come across, which is from a company called Herbaland. These are beauty supplements that are vegan, so can be a perfect addition to your beauty regime.
I was so excited when Herbaland, a Canadian-based company specializing in nutritional gummies reached out to me to tell me about their new vegan collagen supplement! I've been trying it out for the past several weeks and I wanted to share my thoughts with you all. If you're also struggling with trying to find a vegan collagen beauty supplement, then this post is for you!
What is Collagen?
Collagen is an essential protein in our body and has many important functions, including providing our skin with structure and strengthening our bone. However, as we age, our body produces less collagen resulting in wrinkles and dry skin.
The Benefits of Collagen Supplements
Collagen supplements aim to help support our body's natural collagen production and thereby slowing the aging of our skin. As a result, it may help to reduce the appearance of wrinkles and dryness of our skin.
Is Collagen Vegan?
Traditional collagen supplements are not vegan as collagen is primarily sourced from bovine and marine sources. Herbaland's vegan collagen boosters contain plant-based ingredients to promote the body's natural collagen production.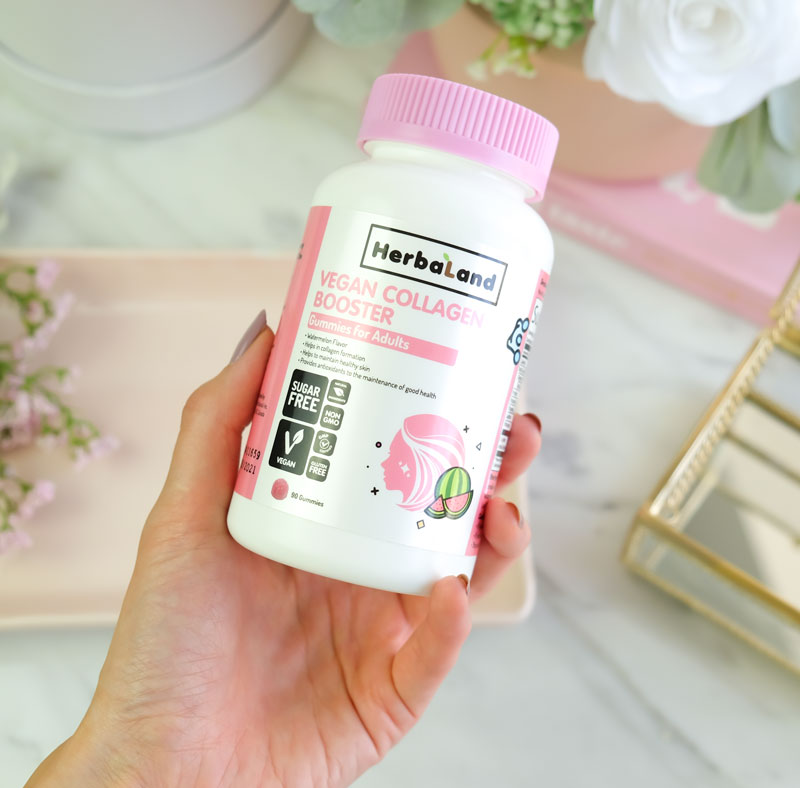 Herbaland – Vegan Collagen Booster
What is it? Herbaland's vegan collagen boosters are sugar-free vegan gummies for adults that claim to help in collagen formation, helps to maintain healthy skin, and provide antioxidants to the maintenance of good health.
Size: 90 gummies Price: CAD$18
Claims: "Collagen is a protein that provides structure and strength in bones, muscles, and skin. This structure-giving property makes it essential for youthful skin. It is important to support the body's production of this fountain-of-youth protein, by fueling its production with vital nutrients. Vegan Collagen Booster is a fun, convenient, and delicious way to boost collagen production. Each gummy is packed with ingredients like Lysine and Vitamin A, to support collagen production and the maintenance of good health."
"This product contains all natural sources of color and flavor. Free of preservatives."
Vegan. Sugar-Free. Soy-Free. Non-GMO. Gluten-Free. Natural Ingredients. CGMP Certified.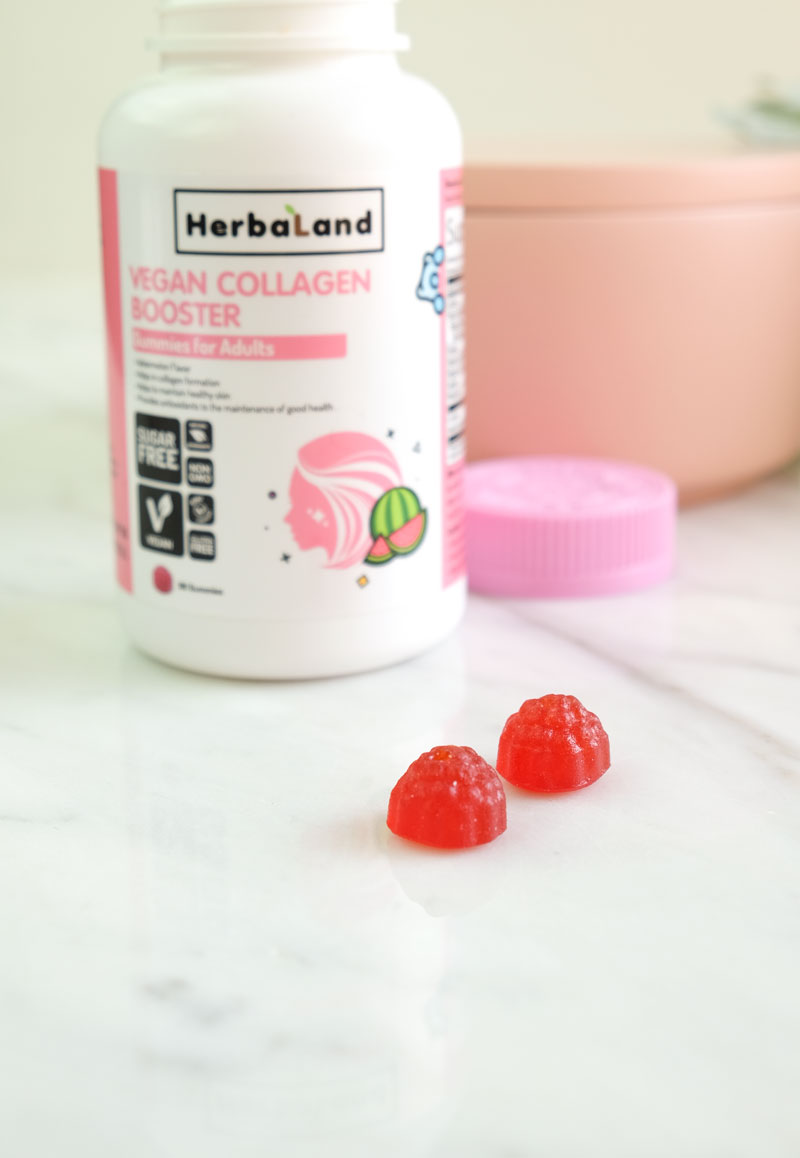 Taste: These watermelon flavored adult gummies are so yummy tasting! They taste and smell exactly like watermelon jolly ranchers! I'm blown away by the fact that these gummies are sugar-free too, they taste like candy and I don't really have a sweet tooth so I don't like things to be too sweet and I find Herbaland's gummies for adults to be perfectly sweetened ??
Texture: Herbaland's vegan gummies use a pectin base instead of gelatin (gelatin is derived from boiling animal skin and bones, gross!). But these vegan and animal-free gummies from Herbaland have a similar texture and chewiness compared to other gummies or candies with gelatin.
My Thoughts: I love the convenience of them and they're super delicious so that makes it easier to eat them 3 times a day, I actually look forward to eating them because they're so yummy! ?
I've been trying Herbaland's Vegan Collagen Booster for over 3 weeks now, so I'm almost done the bottle. I take them with food at breakfast, lunch, and dinner. I have noticed an improvement in the appearance and texture of my skin but I've also made from lifestyle changes like drinking a gallon of water a day and eating more fresh greens and veggies in my diet. So I'm not going to suggest that Herbaland's collagen booster gummies are a magic pill that will give you clearer, younger-looking skin but I will say that in combination with a healthy lifestyle and diet, taking these gummies daily has improved the look and texture of my skin.
I've been trying to eat less sugar and processed foods so I do appreciate Herbaland's clean, simple, natural, and mostly organic ingredients. This is totally aligned with the changes I'm trying to make in my life and also CAD$18 per bottle seems like an unbeatable price for something that is both natural and delicious tasting! And a bonus that Herbaland is a Canadian company! ??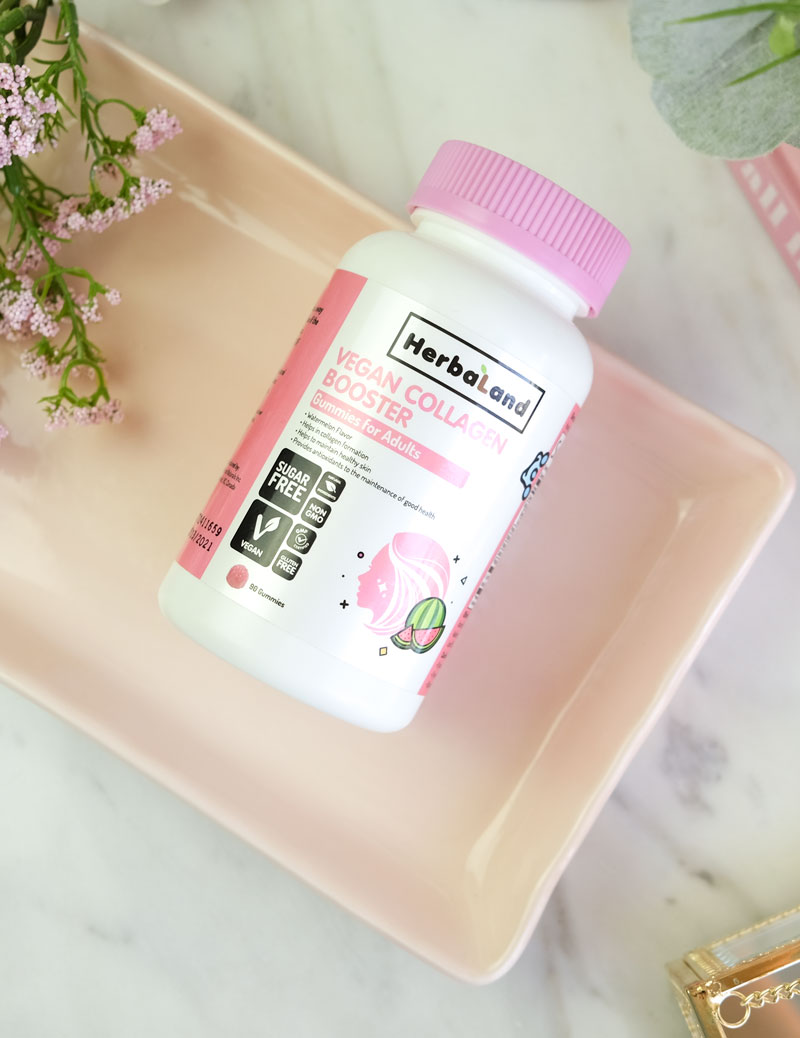 Overall, I would definitely recommend giving Herbaland's vegan collagen booster gummies for adults a try! I'm thinking of trying out their other gummies for hair, skin, and nails next!
Packaging: Comes in a child-proof plastic (HDPE 2) medicine bottle. The gummies have a tendency to stick to one another so once you get to the bottom of the bottle, it can be challenging trying to reach the gummies stuck to the bottom of the bottle.
Ingredients: The raw materials are sourced from local farms in Canada and are organic, pesticide-free, non-GMO and natural.

Medicinal Ingredients per gummy (2.8g):
Vitamin A (Vitamin A Palmitate) 900 mcg RAE (3000 IU)
Vitamin C (Ascorbic Acid) 90 mg
L-Lysine 150mg
Amla Fruit Powder 10mg.
Non-Medicinal Ingredients: Isomalto-oligosaccharides, Purified Water, Organic Erythritol, Xylitol, Pectin, Natural Watermelon Flavor, Citric Acid, Sodium Citrate, Natural Black Carrot Color, Organic Stevia Leaf Extract, Organic Sunflower Oil.
Directions: Take 3 gummies per day with food.
There are 90 gummies in the bottle, so this one bottle will last you 30 days when taken 3 times a day.
Where to buy? online at herbaland.ca, on Amazon (CA), or Well.ca