Fruit and Veg Fiber 300g Bulk
Recommended Dose (Adults aged 18 and older): Take 3 gummies 2 times per day.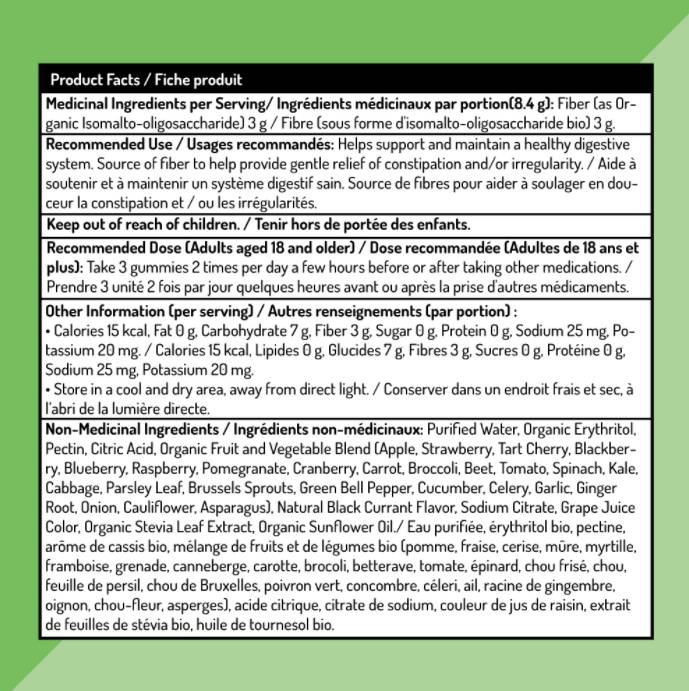 Active Ingredients per serving (3 gummies):
Fiber (as Organic Isomalto-oligosaccharide) 3g
Other Ingredients:
Purified Water, Organic Erythritol, Pectin, Citric Acid, Organic Fruit and Vegetable Blend (Apple, Strawberry, Tart Cherry, Blackberry, Blueberry, Raspberry, Pomegranate, Cranberry, Carrot, Broccoli, Beet, Tomato, Spinach, Kale, Cabbage, Parsley Leaf, Brussels Sprouts, Green Bell Pepper, Cucumber, Celery, Garlic, Ginger Root, Onion, Cauliflower, Asparagus), Natural Black Currant Flavor, Sodium Citrate, Natural Grape Juice Color, Organic Stevia Leaf Extract, Organic Sunflower Oil.
Consult a doctor or a health care practitioner if symptoms worsen, if laxative effect does not occur within seven days or symptoms such as abdominal pain, nausea, vomiting or fever; taking medications which inhibit peristaltic movement (e.g. opioids, loperamide); experiencing a sudden change in bowel habits that has persisted for more than 2 weeks, undiagnosed rectal bleeding or have failed to defecate following the use of a laxative product. Hypersensitivity has been known to occur.
Take only as directed. Do not exceed suggested dosage. Chew thoroughly before swallowing. Keep out of reach of children. Do not use if the safety seal is broken or missing.
Store in cool & dry area, away from direct light.
🍁 All gummies are made with love in Beautiful British Columbia, Canada 🍁

The Herbaland facility is NSF & NSF Sport Certified
FRUIT & VEG FIBER BENEFITS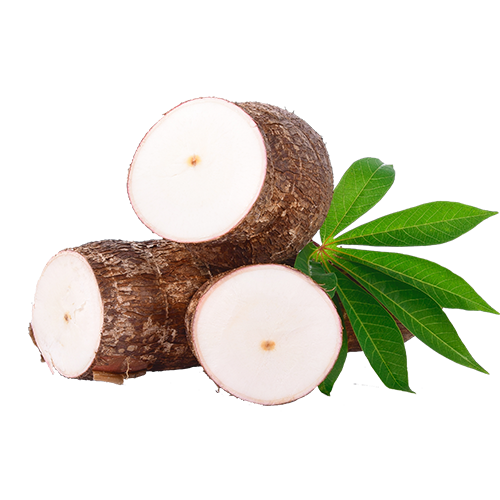 Fiber
Sourced from cassava root, which provides a rich source of fibre to promote healthy digestion and regularity.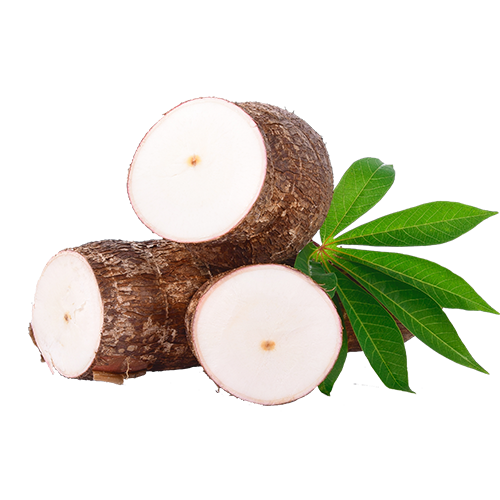 Caffeine
Energy is the name of the game when it comes to Caffeine and getting that extra boost of energy when you need it the most. Sourced from Coffea Arabica and Coffea Caneophora, caffeine may enhance weight loss, cognitive function and alertness.
Free Shipping
Free shipping on all orders over $50.
Easy Returns
If you're not satisfied, you can return the product anytime within 30 days of delivery.
Who is Herbaland
We are much more than a gummy company, we are Canada's experts in producing clean and green nutritional gummies. Our vegan gummies are made right here in Beautiful British Columbia by our Food & Nutrition Science Experts in our gummy laboratory.
Vegan & Inclusive
Rest assured, our products are vegan, certified gluten-free & peanut-free. Our vitamins are also sugar-free, Halal approved, and made with the utmost respect to religious preferences and dietary restrictions. From formulation to price, Herbaland considers every obstacle so that everyone can have nutrition available to them.
Environment First
We choose pectin over gelatin (hooray!), compostable packaging, zero waste refills, and eco-forming environmentally responsible technology. Herbaland makes products with love for you and for our planet!